Introduction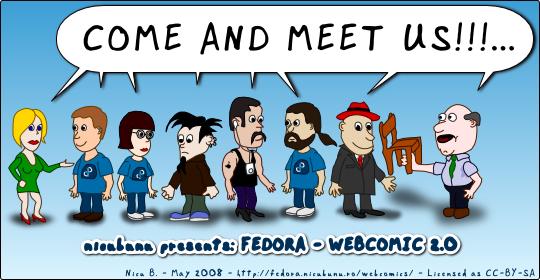 This is A (Free) webcomic about
Fedora
, Linux, computers, life and stuff made by
nicu
. Read it. Enjoy it it is enjoyable. Comment if you want. Share it if you want.
---
Cast of characters
Meet the characters
: the heroes, the villains damsels in distress, innocent passers-by and more. Find about their names, hobbies, weaknesses, maybe some background info and plans for future. You may get in there also some source code (SVG) for developing your own webcomics.
---
Romanian version

The webcomic is developed primarily in English but its creator prvoides also a
Romanian version
, which contain only the translated version of the comic strip.
Being an
Open Source
and
freely redistributable
webcomic, you are free to run your own translation.
---
Latest issues:

After
some point
it becomes humorous: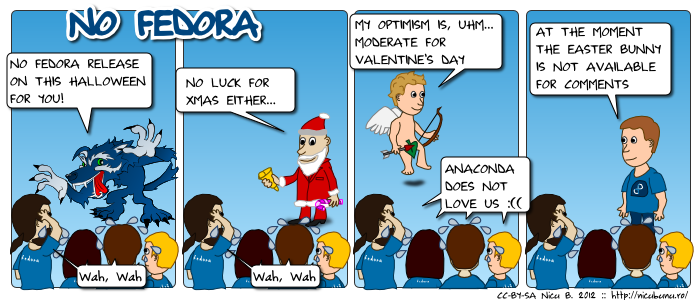 8 Nov 2012 | 4:38 am | Read/Leave comments
---
I am doing a lot of photography lately but I also didn't forget about graphics, the latest project I was involved lately was doing freelance work on a proprietary commercial project for creating storyboards). While is not Free software, it allows to leverage my experience from my old Fedora webcomic and even build upon some of the assets I developed as a follow-up. From a technology point of view, the project is cool as it uses SVG for its files, so once installed you can extend it easily with self-made graphics or with images from the Open Clip Art Library, for example.
Unfortunately the app is Windows-only, made with .NET, so I can't easily provide screenshots (I use Inkscape and Fedora for my part of the work), but here's an example image from the Storyboard That website (probably people will recognize the graphics style):
14 May 2012 | 12:02 am | Read/Leave comments
---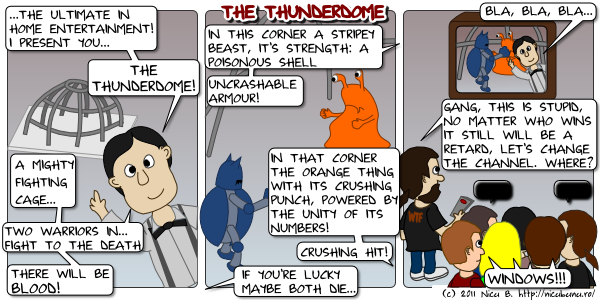 Watching the FOSS blogosphere, is pretty much like news television before some elections: two sides throwing mud at each other, trying to win you on their side, but in the end, no matter who wins, you still be screwed. Really, as in politics the lesser of two evils is still evil, in GNOME the lesser of two retards is still retard.
And as in politics the people reaction is
not to vote
, also in software it can be
not to upgrade
. Honestly, I don't care what will happen in the Ubuntu camp, but I am pessimistic about the Fedora camp: even if the users revolt for, pulling a number completely out of my ass, only half of the regular downloads, the poisonous people won't get fired, they will talk their employer into the excuse as a normal trend of people moving to mobile device and will make it even worse.
15 Mar 2011 | 4:22 am | Read/Leave comments
---
'Nuff said
.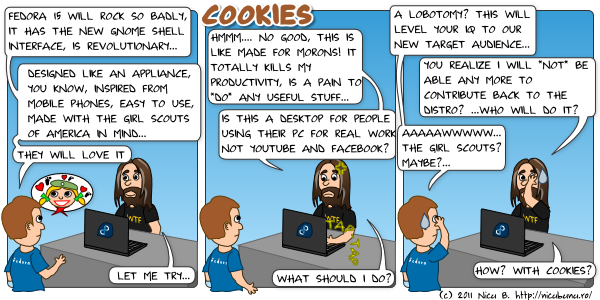 PS: even if reusing some elements, this is
not
part of my old Fedora comics series, neither is it in any way endorsed by the Design/Art Team, is a personal project.
27 Jan 2011 | 1:50 am | Read/Leave comments
---
So far at least seven people asked me about a webcomic special for FUDCon, so I had to do one. But I think I am going to have even less shame than usual, trying to change the bribery... I know I have to expect the beers, but can I have something else instead? I need to
buy
a FUDCon T-shirt,
M size
. Thank you in advance :) I have no shame :D
18 Sep 2010 | 7:32 am | Read/Leave comments
---

Read more on
nicu's blog
.